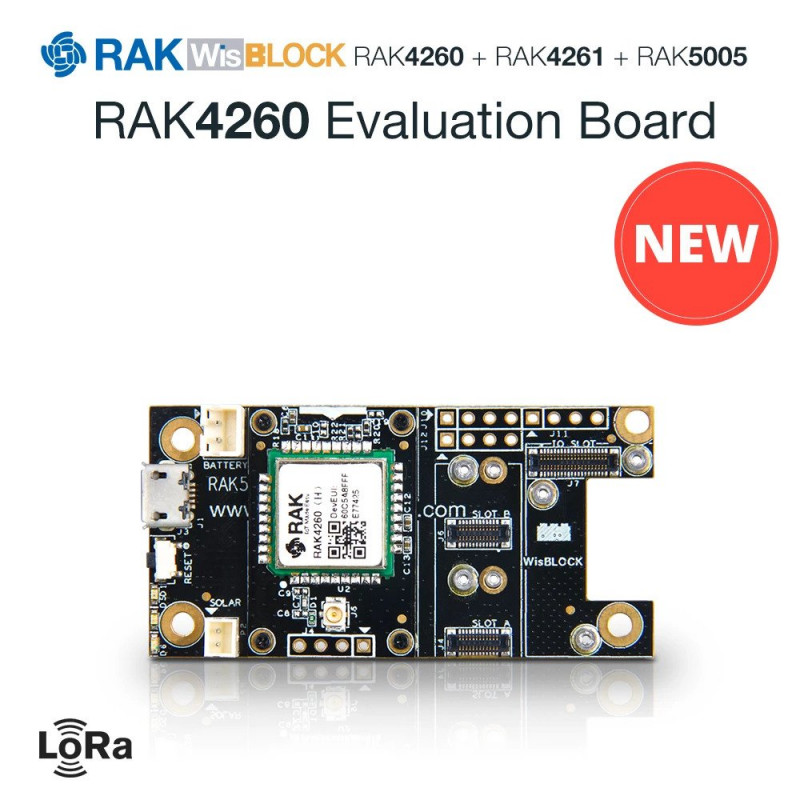  
RAK4260 Evaluation Board
RAK4260 LoRa Module+ Breakout board and RAK5005 WisBase

100% secure payment through our payment platform.

Shipping 24-48 hours - Satisfaction guarantee.
RAK4260 Evaluation Board is a WisBlock product that consists of RAK4261( RAK4260 LoRa Module+ Breakout board), and the RAK5005 WisBase). This development board allows access to all serial and GPIO ports for easy configuration. The RAK4260 core module includes RAK Unified Interface (RUI) to help you quickly and easily develop and test your firmware.
Key Features
    High quality Low power LoRa® device (Microchip ATSAMR34J18 SiP)
    Fully supported 862 to 1020 MHz frequency coverage (all LoRaWAN bands)
    High level of accuracy and stability (32MHz TXCO)
    Max Tx Power: 20dBm; Max Sensitivity: -148dBm; Rx Current: 17mA (typical)
    Rich selection of interfaces: I2C, SPI, ADC, UART, GPIOs
    Small form factor: 6x6 mm compact BGA package
Packaging
    1pc RAK4260 Evaluation Board (RAK4261 + RAK5005)
    1pc Micro USB Cable
    1pc LoRa Antenna (iPEX)
    2pcs 4-pin Header
    8pcs Dupont Lines