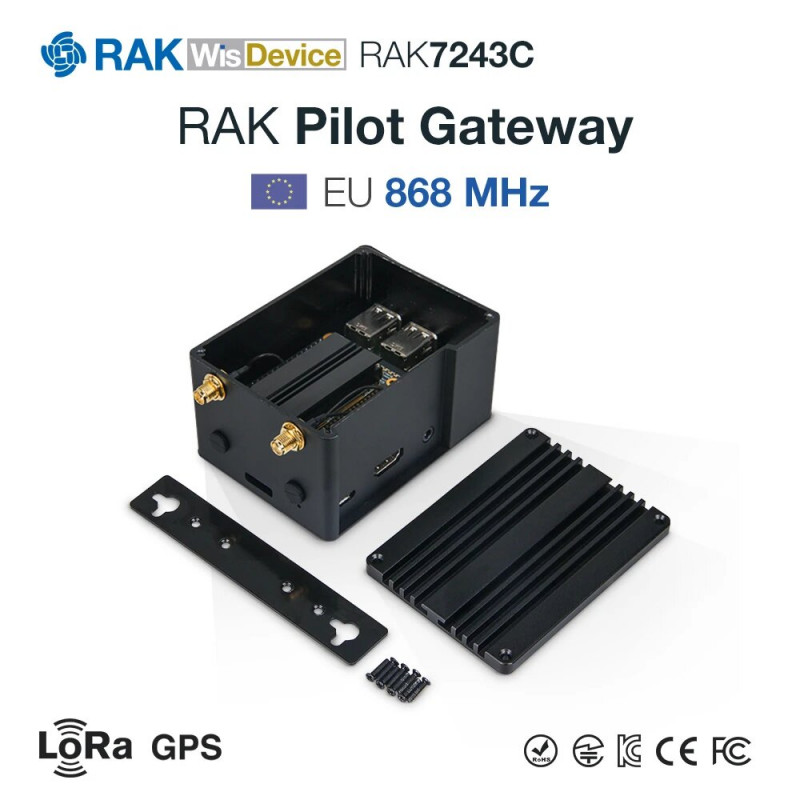  
RAK7243C Pilot Gateway - LoRa - EU868
8 channel LoRaWAN™ Gateway

100% secure payment through our payment platform.

Shipping 24-48 hours - Satisfaction guarantee.
The RAK7243C is a fully-fledged 8 channel LoRaWAN™ Gateway. It consists of the following modules: RAK2245, RAK2013 and Raspberry Pi 3B+.
At its core is the Raspberry Pi 3B+, which integrates all the other hardware components and runs the OS. The RAK2245 is the concentrator module, playing the role of a LoRa transceiver. The RAK2013 provides for cellular backhaul (in addition to the Wi-Fi and Ethernet of the Raspberry Pi 3B+)
Software-wise one could choose to either go with TTN or LoRaServer in addition to bringing his own solution. TTN is more suitable for public, cloud deployment. LoRa Server provides a solution that can be run on a private server or the gateway itself.
Thus the RAK7243C is a flexible solution suitable for both small scale projects, as well as large scale industrial solutions. It provides a variety of connectivity options and its size and weight make it ideal for indoor deployment.