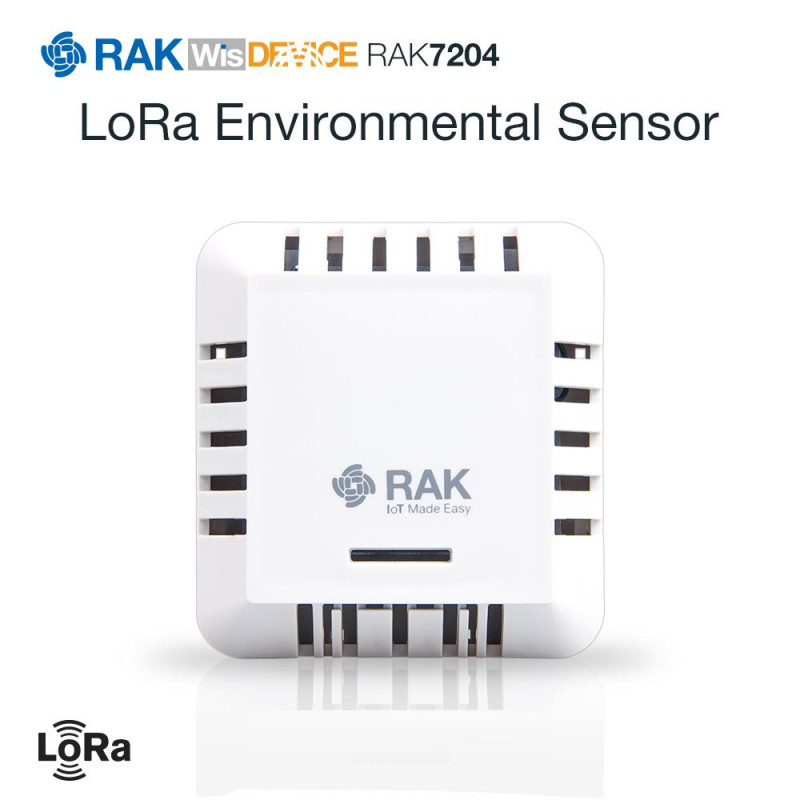  
RAK7204 LoRa Environmental Sensor - EU868
High-precision environmental monitoring station
Security policy
All our pages are protected with HTTPS / TLS 1.3 connection
Fast Shipping
Orders are shipped the same day from Monday to Friday for any order placed before 10:00 am
The RAK7204 is a LoRaWAN node that servers as an environmental monitoring station. The high-precision sensors, can measure changes in temperature, humidity, gas pressure and provide an indoor air quality index.

All the accumulated data can be sent to a LoRaWAN Gateway in order for it to be forwarded to the Cloud. Because of its design the RAK7204 can achieve a very low power consumption rate, which with the included non-rechargeable battery allows for 2+ years of operation. The firmware has built-in functionality that allows the user to adjust the sampling interval of the sensors and the transmission cycle. Last but not least, the RAK7204 adopts a highly integrated design, fitting the electronics and battery within a 90x85x34mm sized housing.

Key Features:

    - Measurement of a variety of environmental parameters
    - Temperature, Humidity, Gas Pressure and Indoor Air Quality (IAQ)
    - Sensor BOSCH BME680 Integrated Environmental Unit
    - Compact size
    - Built-in LoRa Antenna, swap-able battery
    - Easy to mount and maintain
    - Low power operation
    - Standby current of less than 15 uA
    - Adjustable sampling and transmission interval
    - Replaceable 3500 mAh high capacity lithium battery with a battery life of more than 2 years
    - LoRaWAN 1.0.2 fully compliant

Note :

1. The included battery is non rechargeable. In case you need to plug in the Micro USB port for the purpose of configuring the node you should remove the battery. There is no protection circuitry an leaving the battery inside the devise when connected via the Micro USB interface will damage it and might result in the device overheating and catching fire. Please make sure you remove the battery immediately after you open the casing, before performing any other configuration or maintenance.

2. The pin distance of the battery connector is 2.0mm. When choosing a battery, attention should be paid to the consistency of positive and negative poles with the figure above. Reverse connection or short circuit may damage the device and may cause overheating and combustion of the battery. Therefore, when replacing the battery, it is necessary to strictly confirm whether the positive and negative poles of the connector are correct.