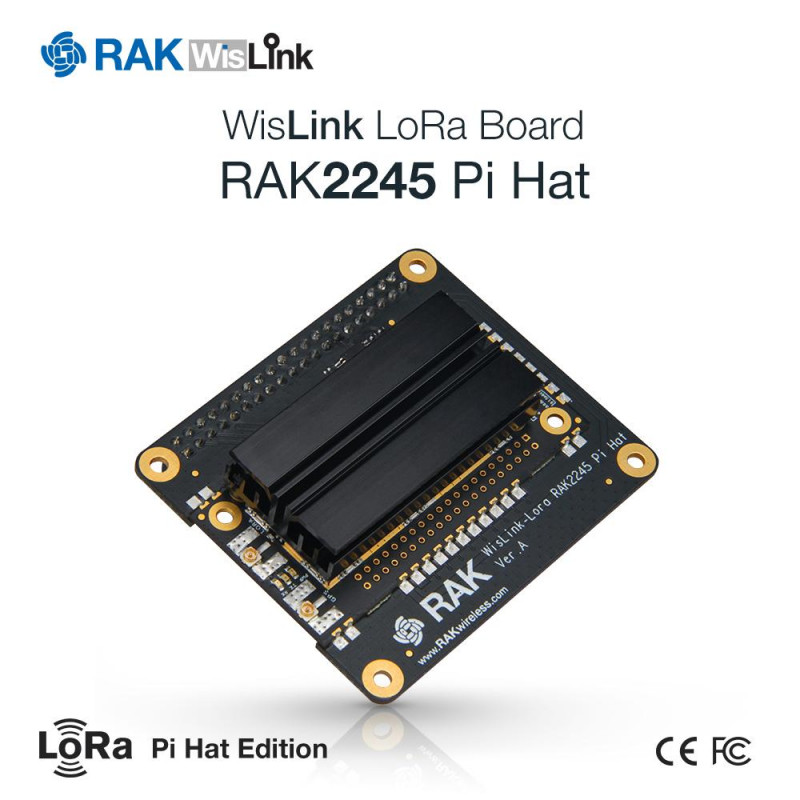  
RAK2245 Pi HAT Edition - EU868
Fully functioning LoRaWAN Multichannel Concentrator module HAT (SX1301) for Raspberry Pi

100% secure payment through our payment platform.

Shipping 24-48 hours - Satisfaction guarantee.
RAK2245 Pi HAT is the largest of the RAK2245 family, however it offers complete compatibility with the Raspberry Pi 40pin header. Thus it is a perfect solution for a DIY gateway using the Raspberry Pi at its core. This make for a quick to deploy LoRaWAN solution with low cost and stable performance.
As with the other modules in the RAK2245 line, it is based on the Semtech 1301 and dual SX1257/58 front-end chips. It is a full-fledged 8 channel LoRa Concentrator with a number of improvements over the last generation (RAK831) of this product.
Complete documentation of this product can be found on our website documentation page.
Key Features
Fully functioning LoRaWAN Multichannel Concentrator module (SX1301)


Tx Power up to 27dBm


RX sensitivity down to -139dBm


Improved noise resistance due to improved RF chain filtering (Additional SAW)


Full LoRaWAN 1.0.2 stack support


Supported bands: (EU433, CN470, IN865, EU868, AU915, US915, KR920, AS920 and AS923)


Integrated Ublox MAX-7Q GPs Module


40pin female header (fully compatible with Raspberry Pi)


Redesigned heat sing for better thermal dissipation and reduced thermal noise
Packaging
Board Dimensions: 56.0 x 65.0 x 22.0mm
Board Weight: Approximately 1.15 oz
Package Weight: 0.3kg (0.66lb.)
Package Inclusions: RAK2245 Pi HAT Board, LoRa Antenna, and GPS Antenna